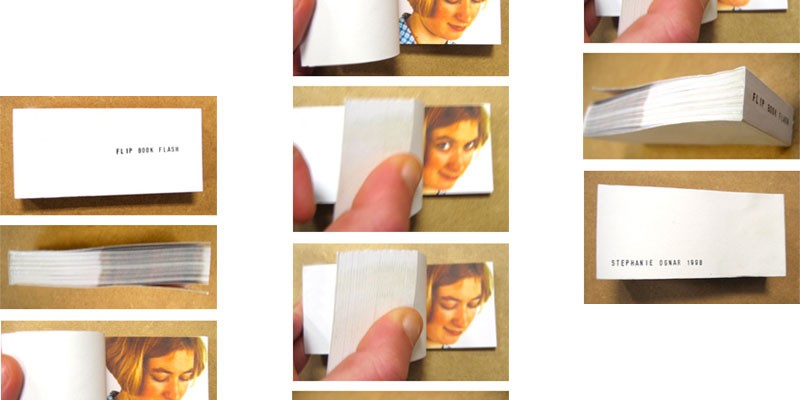 Flip book / 2018
Flip Book FLASH
Stephanie Ognar /
* Tarif adhérent
"Entre 1997 et 1999, j'ai crée une série de douze flip books, tous me mettant en scène en train d'effectuer un geste du quotidien : bath (bain), berry (baie), coat (veste), flash, glance (coup d'oeil), kiss (embrasser), smoke (fumer), spit (cracher), stare (fixer), wink (faire un clin d'oeil) et yawn (bailler). Chaque livre a été créé en me filmant, puis en convertissant la vidéo en pages en utilisant un logiciel de Flipbook ; imprimant ensuite les images chez moi avec mon imprimante à jet d'encre ; une fois les pages imprimées, je les ai fait découper chez un relieur, effectuant ensuite la reliure moi-même. Les quelques centaines d'exemplaires des livres que j'ai fait ont été vendus sur Printed Matter, dans des librairies, des musées et à des collecteurs privés, mais aussi exposés dans différentes galeries. 
Certains des gestes sont charmeurs tandis que d'autres sont plus banals ou stimulants, mais j'ai essayé d'utiliser chaque livre dans le but d'exprimer un certain lien avec le public, et dans chacun d'entre eux, j'ai un contact visuel avec le public pendant au moins un moment. Une des idées qui m'a poussé dans mon travail était la question suivante : comment capter l'attention du public et maintenir un contact significatif malgré la durée d'attention généralement limitée d'un spectateur ? Et plus la série progressait, plus je me suis intéressée à l'examination du plus petit moment de ma vie quotidienne et de ce que mes gestes révélaient sur moi. Je me suis également intéressée à la manière dont le contrôle de la vitesse et de la direction des Flipbooks par le spectateur modifie la nature des gestes présentés et suggère que le vrai lieu d'action, et ce de nombreuses œuvres, est la réponse que se crée le spectateur."
1 EX. DISPONIBLE
"Between 1997 and 1999 I created a series of twelve flip books, each showing me performing a small everyday gesture: bath, bed, berry, coat, flash, glance, kiss, smoke, spit, stare, wink, and yawn. Each book in this series was created by videotaping myself, converting the video to book pages using the FlipBook software program, printing the images on my home inkjet printer, having the pages cut by a local bookbinder, and then sorting and perfect binding the books myself. The several hundred copies of the books that I made have been sold through Printed Matter, Inc.; bought by libraries, museums, and private collectors; and exhibited at various venues.
Some of the gestures are flirtatious while others are more mundane or challenging, but I tried to use each one to express some connection to the audience, and in each of the books I make eye contact with the audience for at least a moment. One of the ideas that led me to the work was the question of how to capture the audience's attention and to sustain some meaningful contact despite the typically limited attention span of a viewer. As the series progressed, I became more interested in examining the tiniest moments of my everyday life when gestures revealed or secreted my self. I also became more interested in how the viewer's control of the speed and direction of the flip books altered the nature of the gestures and suggested that the true locus of action in many works is in the response of the viewer."
2 COPIES AVAILABLE (one is in silk paper)