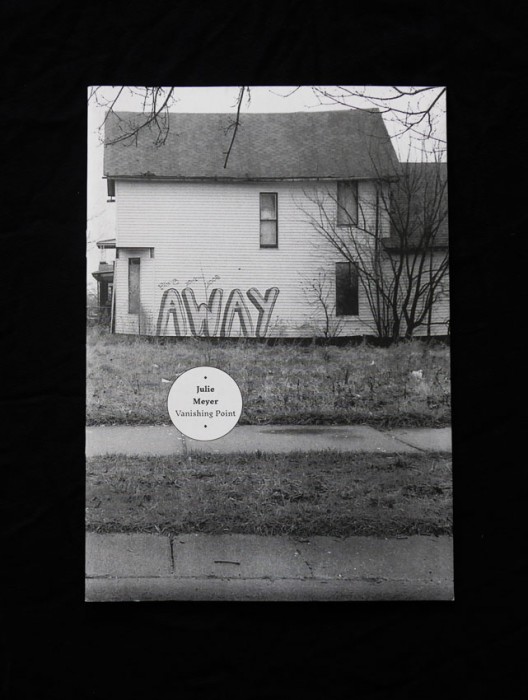 Graphzines & zines / 2016
Jet Lag 60 - Vanishing Point
Julie Meyer
* Tarif adhérent
Vanishing point a été réalisé lors d'un voyage à Detroit en avril 2013. Les photographies sont consécutives d'une errance dans les rues de cette agglomération en déclin, donnant à voir des maisons en ruine désertées par leurs habitants. Médium né de la ville industrielle, la photographie argentique et son obsolescence marquée par le développement du numérique font écho à la forme urbaine représentée.
Jet Lag est une collection de livres dédiés au dessin, collage, photomontage et autres expérimentations graphiques. Chaque Jet Lag est une carte blanche à un artiste qui s'approprie les 24 pages disponibles. Chaque saison Jet Lag comprend 10 Jet Lag conçus par 10 artistes locaux, nationaux, internationaux. La charte graphique change à chaque saison. Elle est à chaque fois confiée à un(e) jeune graphiste.
Vanishing point was made during a trip to Detroit in April 2013. The photographs are the result of wandering through the streets of the declining urban area, showing ruined houses deserted by their inhabitants. Film photography medium that was born in this industrial city and its obsolescence marked by the development of digital technology echoes the urban form represented
Jet Lag is a collection dedicated to drawing, collage, photo-montage and other graphic experiments. Each artist is given free rein for each Jet Lag -they have to take the 24 available pages and make them their own. Each Jet Lag season is made of 10 Jet Lag.
17 ex. en stock

A5 / 24 pages / 50 ex.
reprographie noir
ISBN 978-2-37751-001-6