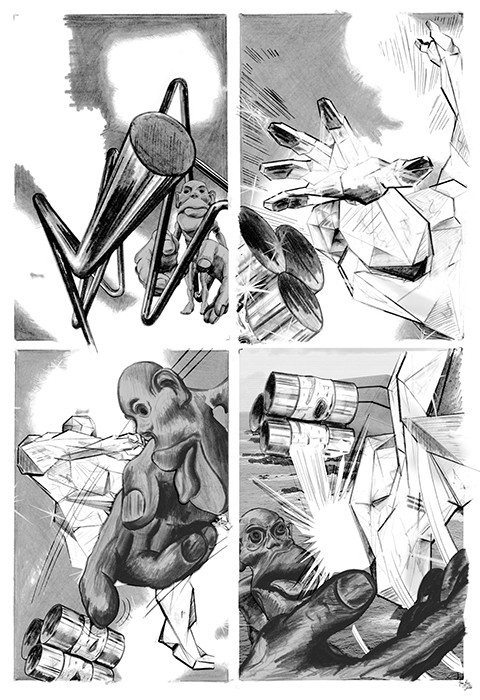 Sérigraphie - Silkscreen / 2018
Antidote #6
Jean-Marc Ballée /
Bientôt épuisé !
* Tarif adhérent
En 1998 avec Psycho, Gus Van Sant rejoue très exactement le film d'Alfred Hitchcock de1960.
Dans un comics de décembre 1967 (Tales of Suspense #96) et dans ce numéro seulement, le visage de Steve Rogers (Captain America) est trait pour trait celui de Guillaume Houzé (le collectionneur). Une étrange ressemblance s'opère (To Be Reborn!). Cette coïncidence (dessins de Jack Kirby, encrage de Joe Sinnott) ne se reproduira dans aucune autre aventure, ni avant ni après.
En 1989, Bill Watterson superpose une intrigue de type « Roman Noir année 50 » sur une aventure de Calvin & Hobbes. Le résultat est un strip adulte avec en trame de fond un récit d'enfant. Les pistes sont brouillées.
(...) Dès lors les œuvres de la collection suivent le récit, elles jouent et subissent les querelles, amitiés et revers, joies et peines des personnages. Le travail n'est plus de l'ordre des représentations d'usage (iconographies habituelles), mais s'attache plutôt à des considérations scénaristiques (sentiments, rôles, effets de dramaturgie). Pour telle ou telle scène, pluie ou neige ?
Les deux histoires ouvrent et closent le catalogue Antidote.
Un pas en arrière. Les deux récits prennent forme, un casting se précise. Le commissariat d'Antidote 7 sera le choix induit par ces deux aventures. Au 40 bd Haussmann, Moonrise (2004), Elmyr De Hory (2006) et Patman 2 (2006) se retrouvent dans un silence muséal.
With Psycho in 1998, Gus Van Sant plays Alfred Hitchock's 1960 movie very accurately.
In a comic book from December 1667 (Tales of Suspense #96) and this edition only, Steve Rogers' face (Captain America) is identical to Guillaume Houzé's (the collector). A strange resemblance occurs (To Be Reborn!).  This coincidence (drawings by Jack Kirby, inking by Joe Sinnott) will not happen again in any other adventure, neither before nor after.
In 1989, Bill Watterson superimposed an intrigue of the "Black Nove of the 50's" kind on a Calvin & Hobbes adventure. The result is an adult comic strip with a child's story as a background plot. Tracks are blurred.
(...) From then on, the works in the collection follow the story; they play and suffer the quarrels, friendships and setbacks, joys and sorrows of the characters. It is not about usual representations (usual iconography) anymore, but it rather focuses on scriptwriting considerations (feelings, roles, dramaturgic effects). Rain or snow for this specific scene?
Both stories open and close the Antidote catalog.
Flashback. The two stories are being shaped, the casting gets clearer. The curator of Antidote 7 will be the choice induced by these two adventures. At 40 boulevard Haussmann, Moonrise (2004), Elmyr De Hory (2006), and Patman 2 (2006) are all in a museum silence.