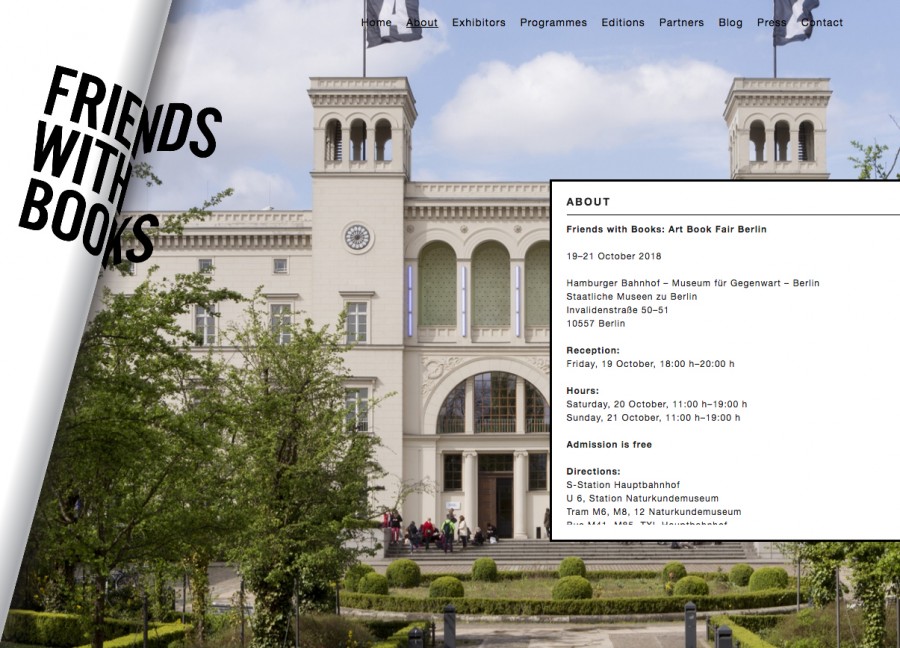 19-21.10.18 - Berlin - Allemagne
Friends with books 2018
Friends with Books: la foire du livre d'art de Berlin aura lieu du 19 au 21 octobre 2018, en tant que premier festival européen de livres et de périodiques d'artistes contemporains par des artistes et des éditeurs d'art. Avec plus de 200 participants internationaux et une série de programmes publics: discussions, lectures, présentations, performances et œuvres d'art explorant les périmètres de l'édition d'art d'aujourd'hui.

Friends with Books est une organisation à but non lucratif fondée en 2014 offrant une plus grande visibilité aux livres d'artistes contemporains et aux publications artistiques, y compris une foire annuelle de livres d'art, une programmation publique et des partenariats avec des organisations et des institutions artistiques. livres d'œuvres d'artistes et d'éditeurs du monde entier.
Friends with Books: Art Book Fair Berlin takes place 19–21 October, 2018, as Europe's premier festival for contemporary artists' books and periodicals by artists and art publishers. Featuring 200+ international participants and a series of public programmes: discussions, readings, presentations, performances, and art works that explore the perimeters of today's art publishing.
Friends with Books is a non-profit organisation founded in 2014 offering greater visibility to contemporary artists' books and art publications, including an annual art book fair, public programming, and partnerships with art organisations and institutions, facilitating the engagement of diverse audiences with the book works of artists and publishers worldwide.