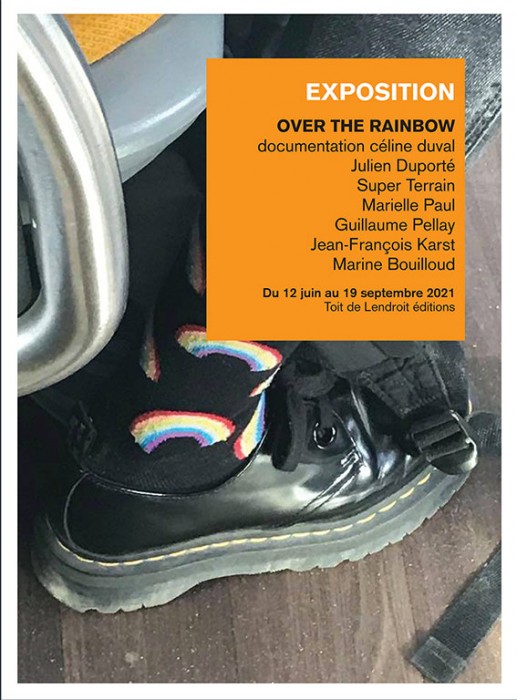 12.06.21 — 18.09.21 - Rennes - France
Over the rainbow
Over the rainbow propose sept creations inédites de sept artistes revisitant les couleurs de l'arc-en-ciel. Les créations se succèdent tout au long de l'été sur le billboard positionné sur le toit de Lendroit éditions.
Un événement visible gratuitement 7/7.
ARTISTES INVITÉS
Du 12 au 25 juin
Mauve — documentation céline duval
Du 26 juin au 10 juillet
Bleu marine — Julien Duporté
Du 11 au 25 juillet
Bleu ciel — Super terrain
Du 26 juillet au 8 août
Vert — Marielle Paul
Du 9 au 22 août
Jaune — Guillaume Pellay
Du 23 août au 5 septembre
Orange — Jean-François Karst
Du 6 au 19 septembre
Rouge — Marine Bouilloud
EN
Over the rainbow proposes seven original creations by seven artists who revisit the colours of the rainbow. The creations will follow one another throughout the summer on the billboard on the roof of Lendroit éditions.
The event is visible for free 7/7
GUESTS
From June 12 to 25
Mauve — documentation céline duval
From June 26 to July 10
Navy blue — Julien Duporté
From July 11 to 25
Sky blue — Super terrain
From July 26 to August 8
Green — Marielle Paul
From August 9 to 22
Yellow — Guillaume Pellay
From August 23 to September 5
Orange — Jean-François Karst
From September 6 to 19
Red — Marine Bouilloud