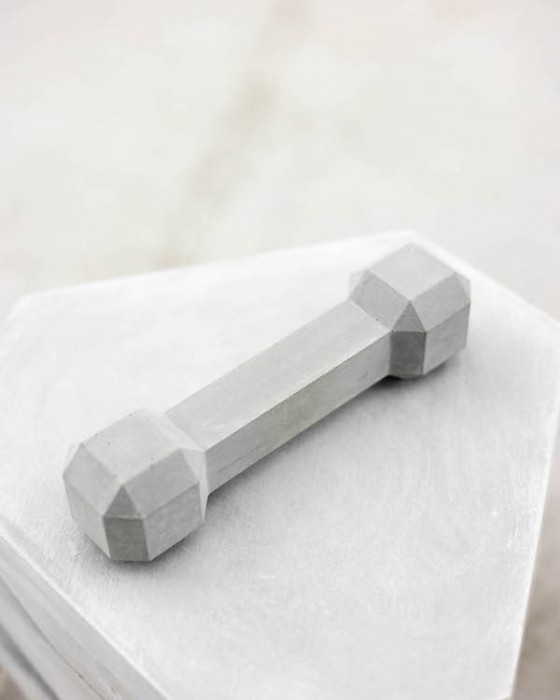 Multiple / 2017
Fragment
Nicolas Floc'h
Bientôt épuisé !
* Tarif adhérent
Le multiple Fragment a été édité dans le cadre de l'exposition de Nicolas Floc'h, Kuroshio, le courant noir. 
L'univers maritime est récurrent dans l'œuvre de Nicolas Floc'h. En 2008, il découvre les récifs artificiels, ces architectures qui sont immergées pour renouveler l'écosystème sous-marin. Depuis cette date, il répertorie ces constructions en béton avant leur immersion, constructions qu'il reproduit ensuite sous la forme de sculptures à l'échelle 1/10ème. Enfin, l'artiste plonge et photographie les véritables récifs après leur colonisation par la faune et la flore sous-marines. 
En mettant en lumière les récifs artificiels, habituellement cachés au regard, sous la forme de leur reproduction à l'échelle 1/10ème, Nicolas Floc'h invite à considérer ces architectures sous une dimension esthétique. Le statut de ces sculptures oscille ainsi entre fonctionnalité et objet artistique, ce que Nicolas Floc'h nomme « structure productive » ; entre science, environnement et art. Aussi, Fragment possède une force symbolique qui naît du processus de travail de l'artiste, de son immersion et son engagement dans l'environnement qu'il observe et tente de comprendre.
The underwater world has been a recurrent element in Nicholas Floc'h's work since 2008 when he discovered the submerged architecture of artificial reefs used in halieutic research and in the renewal of aquatic ecosystems. Since then, he has documented the different cement constructions before their immersion and then reproduced them in sculptural forms of one-tenth their original size. The artist also goes on diving expeditions to photograph the actual reefs after their colonisation by aquatic flora and fauna.
By putting the artificial reefs, normally hidden from view, in the spotlight through his reduced-size reproductions Nicholas Floc'h invites us to consider their architecture from an aesthetic point of view. These "productive structures", as Nicholas Floc'h calls them, are sculptures that oscillate between functionality and artistic object, between science, environment and art. Fragment has a symbolic force that comes from the artist's process, from the immersion and engagement with the environment he observes and attempts to understand.
4 ex. en stock
4,5 x 18 x 4,5 cm / 30 ex.
Béton
25 exemplaires - certificat d'authenticité + 3 EA + 2 HC
4,5 x 18 x 4,5 cm / 30 copies
Concrete
96 Normal 0 21 false false false FR X-NONE X-NONE /* Style Definitions */ table.MsoNormalTable {mso-style-name:"Tableau Normal"; mso-tstyle-rowband-size:0; mso-tstyle-colband-size:0; mso-style-noshow:yes; mso-style-priority:99; mso-style-parent:""; mso-padding-alt:0cm 5.4pt 0cm 5.4pt; mso-para-margin:0cm; mso-para-margin-bottom:.0001pt; mso-pagination:widow-orphan; font-size:10.0pt; font-family:"Times New Roman",serif;}
25 copies - certificate of authenticity + 3 artist's proof copies + 2 not for sale copies
Autres publications de l'auteur :
BOP #14 - version non pliée
BOP #14 - version pliée
Cyanobactérie