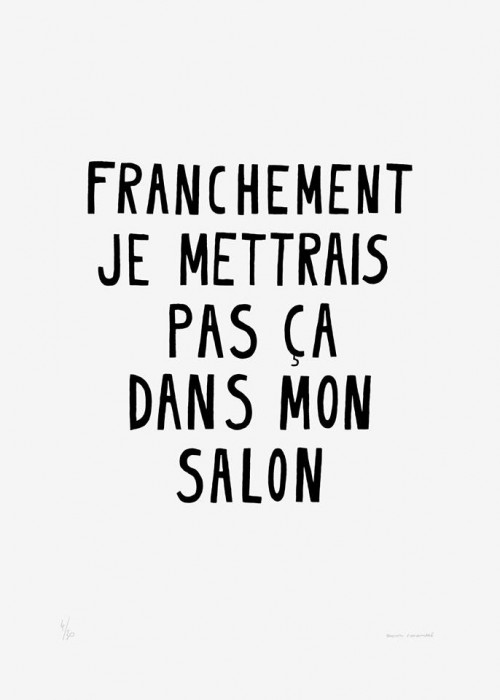 Sérigraphie - Silkscreen / 2015
Franchement, je mettrais pas ça dans mon salon
Quentin Faucompré

épuisé • sold out
Edition signée
* Tarif adhérent
100 % de chance pour que cette estampe fasse forte impression sur votre tapisserie, crépis, intérieur bois, brique, parpaing, à proximité de commode, bibliothèque, cheminée, plante d'appartement, table-basse, armoire, banquette, à côté de votre fauteuil, canapé, buffet, lit, piano, porte-manteau, dans votre cuisine, salle-de-bain, corridor, chambre à coucher, bureau, et peut-être même, si vous aimez les prises de risques, dans votre salon.
Impression flex : L'impression Flex est lisse, légèrement brillante. L'impression s'effectue à l'aide d'un film plastique fin à partir duquel est découpé le motif à imprimer. Ce film est ensuite fusionné à très haute pression et haute température avec le support choisi.
This print will 100% make an impression on your wallpaper, render, wood interiors, bricks, breeze blocks; close to a chest of drawers, a library, a chimney, a house plant, a coffee table, a wardrobe, a bench seat; next to your armchair, coach, sideboard, bed, piano, coat rack; in your kitchen, bathroom, corridor, bedroom, office, and maybe even your living room if you like to take risks.
Flexible printing: Flex printing is smooth and slightly shiny. This technique uses a thin plastic film from which the pattern is cut out. Then, the film is fused at very high pressure and high temperature with the chosen substrate. 
50 x 70 cm / 30 ex.
Numéroté - signé
Flex noir
Impression flex noir sur papier Ursus 300 g.
30 exemplaires + 3 E.A + 2 HC
50 x 70 cm / 30 copies
Numbered - signed
Black Flex
Printed Black flex on Ursus 300 g paper
96 Normal 0 21 false false false FR X-NONE X-NONE /* Style Definitions */ table.MsoNormalTable {mso-style-name:"Tableau Normal"; mso-tstyle-rowband-size:0; mso-tstyle-colband-size:0; mso-style-noshow:yes; mso-style-priority:99; mso-style-parent:""; mso-padding-alt:0cm 5.4pt 0cm 5.4pt; mso-para-margin:0cm; mso-para-margin-bottom:.0001pt; mso-pagination:widow-orphan; font-size:10.0pt; font-family:"Times New Roman",serif;}
30 copies + 3 artist's proof copies + 2 not for sale copies
Autres publications de l'auteur :
Franchement, je mettrais pas ça dans mon salon
Bloc note Quentin Faucompré